George L. said…..
Joanna,
I just wanted to thank you for helping my daughter's special wedding day go on without a hitch! Also a big shout out to Gene for his sincerity and professionalism.  He was great!
Thanks, again,
George L.
Colleen & Ted said…..
"Joanna & The Limo Lady Staff,
Thank you so much for driving us on our wedding day! It was a relief to know that driving and parking were two things we didn't have to worry about! You have an amazing staff!
Love, Colleen & Ted
Kim said…..
"Joanna,
Thank you so much for an awesome experience. Marty and Rich were great!!! we can't wait to come up with another reason to book a limo  or any other kind of transportation with your company. You are definitely the best kept secret in the DMV Limo business. More people need to contact to you for a fair and all inclusive price, I am so glad I did!!
 Again Thanks for a great experience, you have definitely gotten a customer for life!
Kim"
Mary Ellen D said…..
"From my first contact with Jamie to sealing the deal with Joanna, this company was awesome!  Two  professional, very cordial women make for a great company.  And I can't forget our ever charming chauffeur-Marty!  Woo Hoo!  Our friends had a great time. Thanks 'Limo Lady.'"
Jo said….
Dear Joanna,
In the pictures you see the groom Tim and his brothers and friends who have, except for one, used your services since 2002.   My son Tim graduated in 2002 and since then his brothers and friends have used your service for proms until each graduated  until 2006.   Now again, you have provided us with great service at Tim's Wedding.    I have  two more sons left and I know we will be calling on you again.   You are a good friend.
 Here's to seeing you again…..
Jo Duley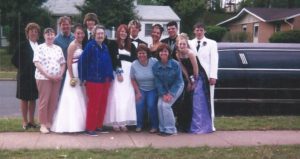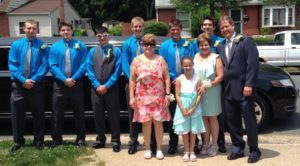 The Limo Lady is the FAMILY Limo company! 14 years and still going!  Thank you Duley Family!
Tanya said…
I noticed how the reviews on the website all focus on happy clients who rented a limo and were impressed, so maybe it's time for a review from someone who didn't rent a limo and was also impressed. I have a friend who lives in Darlington, and I have bought her a plane ticket to come visit me in Nevada. I really don't want her to miss her flight and at the time, she didn't have anyone reliable to take her. I wanted to see what her options were. Joanna's rates were so tempting that a one-hour limo ride to BWI might well have been viable. Joanna managed all my questions and concerns with the utmost professionalism and managed my expectations honestly and clearly. My friend ended up finding a reliable friend who can get her to the airport on time, but it was very reassuring to know Joanna was a friendly, reliable alternative.
Corey said…
I thank you for your professional limousine service. Rich provided a stellar service. I will not only use your company again but I will refer you guys freely. The wives enjoyed every second.
Regina said…
I want to thank you and your crew so much for a beautiful experience my son and daughter-in-law had. What a great experience we all had!
Ronni said…
I wanted to write a note of gratitude for everything you did to make my wedding day perfect! You were timely, efficient and incredibly generous in your support that day…including holding my dress as I was walking down the aisle. Wow! More than I expected and very much appreciated. You are the best! Thank you again for helping to make this special day so wonderful.
Joanna said…
I want to tell you how much my family appreciated the prompt and courteous way in which your driver, John, took care of my daughter's wedding in March, 2015.  He was efficient and attentive to our needs.
I would highly recommend your company.
StephyJo said…
Took forever to decide on how to get to the venue and back. Called many places and was unsatisfied with ALL of them. After several recommendations, I made plans just days before my wedding to get transportation. I could have talked to Johanna for hours on the phone she is sooo warm and welcoming!! Our chauffeur John was on time, polite and just as warm and welcoming! Highly recommend, I will def. be doing business with the Limo Lady next time I need a limo!
Michael said…
I am a pretty tough customer with high expectations and felt that using The Limo Lady was a great decision. I used their services to deliver the Bride, Bridesmaid and flower girls to the church, and afterwards to return family and friends to their places of stay. From initial communication and ordering, through to follow-up communication on the day of use, all the professionals we dealt with were great. The Driver (Rich) was both courteous and safe, the car was on time, clean and well kept. The owner was caring and helped us right up until the end & despite our being a little behind in time. A great buy for anyone on a sharp budget and looking for professionalism & value !!!! Michael & Tatyana – very satisfied Groom
James said…
Driver was excellent. He was punctual, very respectful, attentive, and accommodating. Limo we used was very comfortable and nicely furnished. Joanna, the owner, was also very pleasant and easy to work with. She allowed us to make last minute changes with no hassle. Overall experience was excellent and would definitely recommend them to any of our friends.
Jennifer said…
The limo service was absolutely amazing. The limo driver that was assigned to me that day was helpful and made the experience wonderful! He made sure that I (the bride) was comfortable during everything. The second car that we had rented that night was a town car to get us from the venue to the hotel and he was absolutely amazing as well. They all showed up perfectly on time and without a doubt got us where we needed to be. Joanna was amazing with the whole planning process as well. She was very helpful in helping me pick out times that would be best and payments. The whole experience was great! I will definitely be using them again in the future!
Tammi said…
Joanna provided a limo for my daughter's wedding on 10/10/14. The driver Rich was fantastic. So helpful getting all ready and keeping us organized. The reception was held a week later at my home and we had set-up for parking at the local fire dept. Joanna shuttle our guest to and from our home in a passenger van. They were so wonderful and all the little extra details, such as the sign on the van stating it was Maggie and Evan's wedding shuttle and the signs on the back of the limo; "Almost Married" and "Just Married", made the event extra special. The most important aspect for me was that when I called to make the arrangements, Joanna actually answered the phone. When shopping around I found that other companies were using online reservations and you never got to talk to a person. Not for me. On such an important special day, I wanted to talk to a person and make sure everything was right. I will definitely use Limo Lady for any future transportation needs. Thank you Joanna and Rich
Wendy said…
Everything was perfect! We contracted a limo for our daughter the morning of her wedding and a Town Car for her and her husband after the reception. They were on time, professional, flexible and courteous!
Jackie said…
We loved working with The Limo Lady for our wedding! She was reasonably priced and very flexible. We didn't need the shuttle for the entire reception, so she let us split our package. The shuttle just dropped off and picked up! Exactly what we were looking for. The drivers were nice and courteous and the vehicles were clean. I would definitely recommend The Limo Lady.
Abdalla said…
This was the best thing we ever did! Rich was our driver and he was a very congenial person. He was knowledgable and very aware of the best spots to take our outdoor wedding pictures! Joanna is just a lovely person and she made it very easy for us. She responded promptly to our requests and made sure we were more than satisfied. The pink Limo was a gem and everyone asked about where we got it from. I will make sure everyone I know getting married in Bmore to be aware of this 5 star service!!! Thanks Joanna!
David said…
I learned of this vendor thru a friend of mine. It's his cousin.so i figured i would give them a call. They came thru at the last minute as my daugher's original vendor had backed out due to a personal issue
Joyce said…
Our pickup time was 445 and she arrived at 430. Joanne said they always arrive early this was impressive to me. My daughter was not done getting ready until 5:15 and so in between this I had told her she was still getting ready. Joanne was so accommodating; she reassured me not to worry. i would highly recommend this company.
Robin said…
I was looking for a limo service for my daughters wedding. I called many places,some never called back or were too expensive. I called the Limo Lady and talked to Joanna. She is very personable and knowledgeable. She got to our home early, always a good thing, she had the bridal party to the church and the happy couple to Federal Hill and the reception on time! Joanna is the best! You have one less thing to worry about on one of the most important days in your daughters life! THANK YOU!!!
Kayla said…
LOVE THIS SERVICE!! I didn't realize but I booked my wedding in the peak of prom season so it was very difficult to get limos for my bridal party unless I wanted to book them for 6+ hours. Joanna worked with me and got me the package that I needed without having to spend a million dollars. We did a mini wedding package for me and my girls which was a one way trip to the venue from the hotel and the same for the groom and his guys. We had a bus taking everyone back to the hotel so we only had to worry about getting the bridal party there. We had another one hour package to take me and my hubby back. They had just married signs and flags. The drivers of all 3 cars were so friendly and arrived ahead of time and got us where we needed to be on time! Thank you!!!